%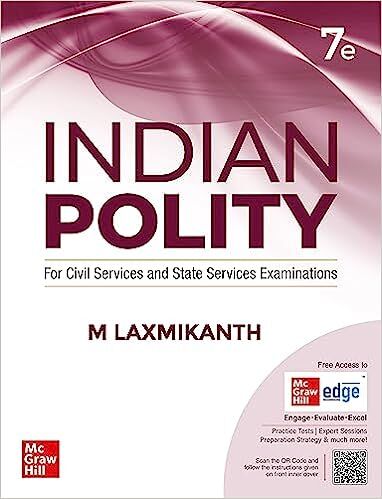 Indian Polity (Latest 7th Edition) English Medium | UPSC | Civil Services Exam |
Indian Polity by M. Laxmikant | Latest 7th Edition |
DESCRIPTION
Indian Polity by M. Laxmikant | Latest 7th Edition | English Medium is one of the most preferred book for competitive exams like UPSC, State PCS and all other exams.
ABOUT INDIAN POLITY BY M. LAXMIKANT
The book itself needs no introduction. It is one of the most famous and comprehensive books on the subject and has been a consistent bestseller for many years. It is a one-stop reference for the Civil Services aspirants, students of law, political Science and public Administration. The book is a must-read for the aspirants appearing for the Civil Services examinations as well as the other State Services examinations. It is conceived to cater to the requirements of not just students appearing for competitive examinations but also postgraduates, research scholars, academics and general readers who are interested in the country's political, civil and constitutional issues. An effort has been made to make the contents of the book relevant, authentic and up-to-date.
ABOUT THE AUTHOR
An alumnus of Osmania University in Hyderabad, M. Laxmikanth has to his credit a degree in Political Science and decades of experience in teaching Civil Services' aspirants. He mentorship continues in the form of his comprehensive books on the subjects of polity, governance and public administration.
LEGAL INFORMATION FOR AUTHORITIES
Plus Pramesh eLib purchase this book (bulk) from authorized distributors/sellers and resell. If needed we will provide required information of the same. Contact us plusprameshelib@gmail.com
Only logged in customers who have purchased this product may leave a review.