%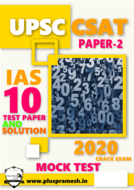 UPSC CSE CSAT Test Series with Detailed Answer Solution Spiral-Bound(ENGLISH MEDIUM)
Most useful for CSE Prelims 2020 and 2021.
Description
Buy UPSC CSE CSAT Test Series with Detailed Answer Solution in Spiral-bound format for CSE 2020. Total of 10 full length tests with detailed solution.
About UPSC CSE CSAT Test Series
Total Number of Tests: 10
Detailed Answer Analysis included.
Content Language: English
Binding Format: Spiral Bound
Printed on 70 GSM A4 size white paper.